Disposal of Residual Gases
Disposal of Pressure Vessels and Gas Cylinders with Hazardous Residual Gases
Special dangers are posed by old gas cylinders with corrosive, flammable or poisonous residual gases.
Specialized know-how, extensive experience and specialized technical equipment are prerequisites for safe and complete removal of hazardous substances in pressure vessels.
UTM has dealt with gas cylinders with hazardous contents since 1996.
For years, we've been a reliable partner for our clients from the gas industry, disposal companies and the authorities.
With UTM, the disposal of your gas cylinders will be in safe and experienced hands.
SAFE DISPOSAL
Safe disposal of gas cylinders with non-operational valves also poses special challenges for the gas industry.
Thanks to the use of UTM technology in the hazardous waste treatment facility of Trédi, this is not a problem.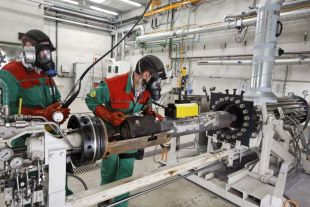 You will find a description of the safe treatment method for hazardous gas cylinders using the UTM safety reactor RETOS in the following film clip.